Rowing is a great way to get an intense full-body workout while getting a high-intensity aerobic workout. With a water rowing machine, you'll experience the benefits of nature indoors. But what makes water rowers so different from air rowers? Let's take a closer look at all the benefits of investing in one of these machines.
What are water rowing machines?
Water rowing machines are an excellent cardiovascular workout and a unique addition to any home gym. Like rowing in natural water, water rowing machines provide full-body training focusing on the abs, shoulders, upper back, arms, glutes, and legs. However, despite working in almost every major muscle group, water rowing machines are low-impact, which means they are suitable for all fitness levels.
Whether new to water rowing or a seasoned pro, the rowing experience carries numerous cardiovascular benefits. It can be used for strength training, high-intensity interval training (HIIT), or traditional rowing workouts.
If you're looking for new fitness equipment, these are our top picks for the best water rowing machines in 2022. Read on for a complete guide to the types of water rowing machines available, their benefits, how to use them, and other considerations to review before making a purchase.
Why choose water resistance training?
Water resistance training offers several key benefits over air resistance training, including more efficient calorie burning and improved cardiovascular fitness.
In addition, because water is denser than air, it's easier for your body to move the paddle wheel through it, which means you can have intense workouts without putting too much stress on your joints and muscles. The water rower is also less noisy than the air rower, making it ideal for home use.
What features should I look for?
When buying a water rowing machine, certain features are worth looking for to ensure you get the best possible value for your money. Many models come with an electric monitor that displays distance rowed and other vital metrics such as calories burned and exercise time. In addition, many manufacturers offer programs designed specifically for their water rowers, allowing users to customize their workouts according to their goals and preferences. Conclusion:
Whether you're looking for a full-body workout or an effective way to reduce stress, you need to invest in a quality water rowing machine.
Water rowers offer several advantages over traditional air rowers and can provide users with intense yet low-impact workouts explicitly tailored to their needs. From adjustable resistance levels to electric monitors that display distance traveled and calories burned, there are plenty of features available on modern models that make them worth considering if you're looking for an effective home cardio workouts machine.
Our selection of the best water rowing machines:
Best Overall: XTERRA ERG650W Water Rowing Machine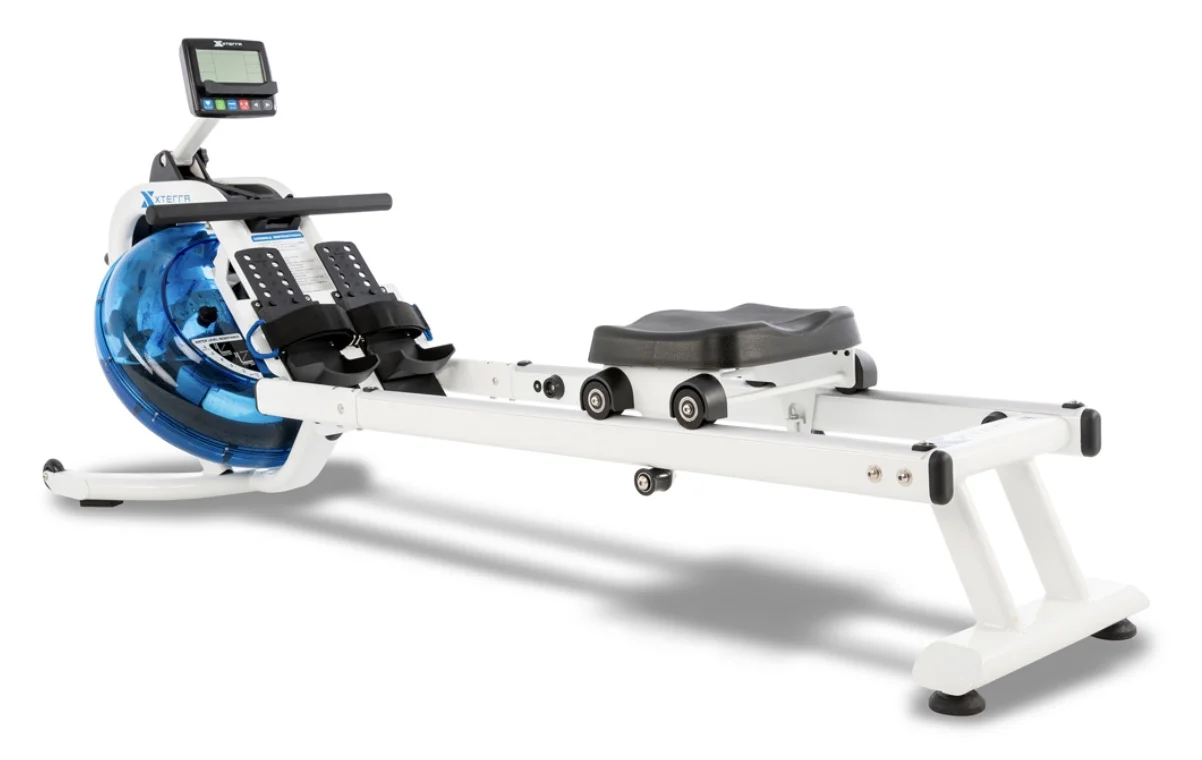 In our selection of the best water rowing machines, the XTERRA ERG650W water rowing machine takes the top spot on our list due to its sleek design, durability, and high-quality real rowing experience.
With over 15 programmed workouts and six levels of water resistance, this machine is suitable for new and experienced rowers. A solid, durable steel frame with dual aluminum slide rails means this indoor rower can handle even the most intense training and will likely last you for years.
We also love the XTERRA ERG650W because its design keeps comfort in mind: the machine has ergonomic rowing handlebars, a contoured padded seat, and adjustable pedals. One drawback is that you'll have to manually get up from the machine to change the resistance level, as it depends on changing the amount of water. But if that doesn't bother you, the XTERRA ERG60W water rowing machine takes the cake as the best on the market.
Pros
Advanced and realistic rowing experience with multiple hydraulic paddles
More than 15 programmed workouts
Six levels of water rower based resistance
Cons
Not compatible with fitness apps
No Bluetooth capability
Changing resistance levels can be time consuming
Specifications
Dimensions: 20.7 inches L x 26.5 inches W x 79.5 inches
Weight: 76 pounds
Weight Capacity: 350 pounds
Max User Height: Six feet, four inches
Materials: Solid steel frame with aluminum slide rails
Display: 5.6-inch LCD monitor with adjustable angle
Bluetooth: Not Bluetooth compatible
Warranty: Lifetime for frame, two years parts, and one year labor
Best Smart Water Rower: Sunny Health & Fitness Smart Obsidian Surge Aquatic Rowing Machine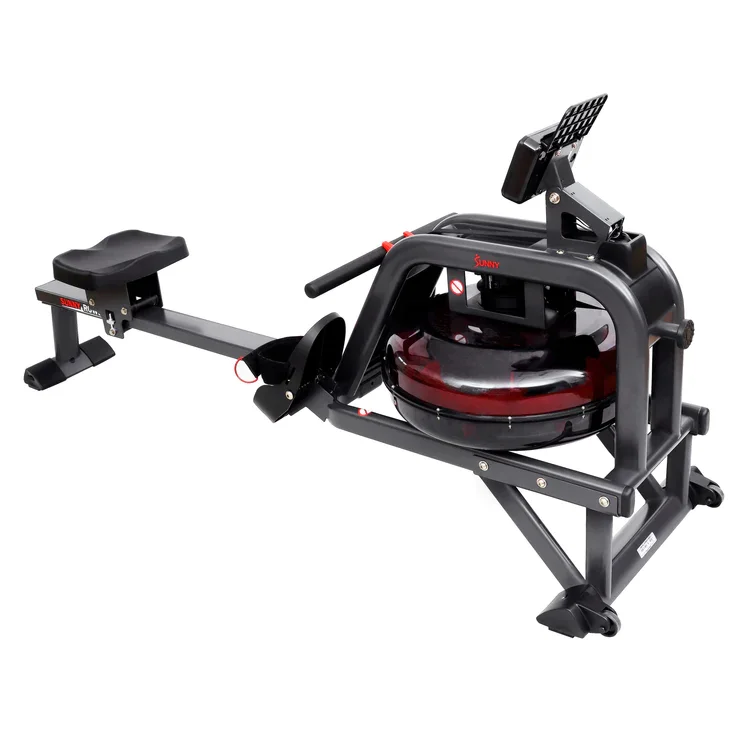 The Sunny Health & Fitness Smart Obsidian Surge water rowing machine is affordable at $649.99 and offers an intelligent rowing experience beyond price. Designed to work with the SunnyFit APP, you can track your favorite workouts thanks to a device mount on the rowing machine's monitor that can hold your phone or tablet.
In addition to its intelligent capabilities, we've also ranked this indoor rowing machine high on our list for its smooth and stable rowing experience. The floor stabilizers and non-slip handlebars help the water rower withstand repeated pulls.
Plus, this machine can be stored upright for easy storage, making it an excellent option for those with smaller smart home gyms. While the adjustable footrests give users more freedom to move their feet and ankles, some may prefer the pivoting pedal feature, so it's essential to consider this before purchasing water rowers in sunny health fitness.
Pros
Compatible with the SunnyFit APP for both Android and iOS.
Easy vertical storage
Modes include race and recovery
Cons
No heart rate monitor included
Short warranty on parts
Some users don't like the adjustable footrests
Specifications
Dimensions: 78.9 inches long x 22.3 inches wide x 32.67 inches tall
Weight: 91.9 lbs.
Weight capacity: 300 lbs.
Maximum user height: N/A
Materials: Steel slide rail
Display: The digital monitor includes a device holder for your smartphone or tablet
Bluetooth: Bluetooth compatible, works with SunnyFit APP
Warranty: Three years for the frame, 180 days for other parts and components in water rowers
Best Water Rower to Splurge On: The Ergatta Rower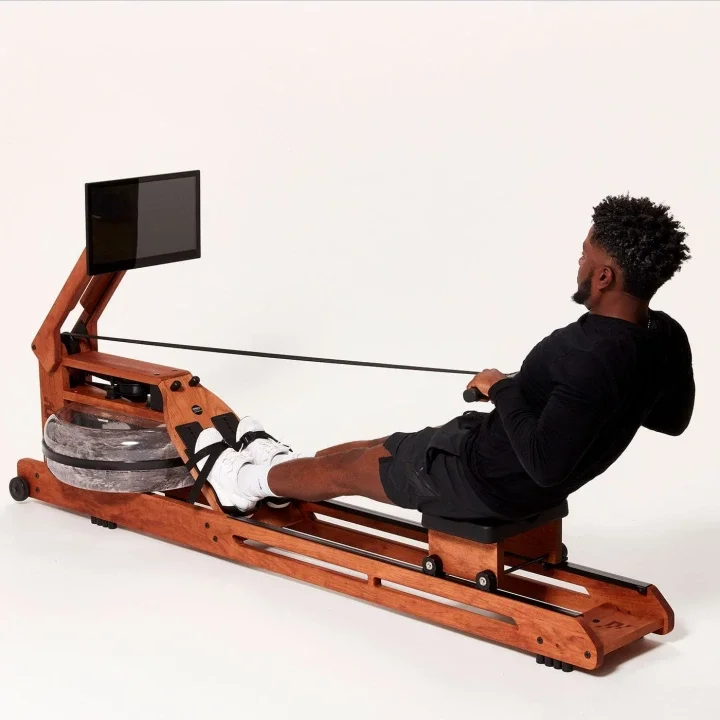 For an even more luxurious water rowing experience, look no further than the Ergatta Rower. As the most high-tech product on our list of the best water rowing machines, this ultra-modern paddle includes a sleek 17.3-inch digital touchscreen that tracks metrics and is Bluetooth-enabled for heart rate monitors.
The Full HD touchscreen runs Android and has a crisp 1920 x 1080 resolution. While an Ergatta membership is required to access the brand's entire fitness library (sold separately for $29 per month or discounted to $319 for the first year), you can use the product without one. However, with a membership, you can use the running mode, access your saved workout history, or use the custom workout library, which is calibrated to your fitness levels and goals.
Pros
High-definition interactive touchscreen
Excellent warranty program
Calibrated workout programs for fitness levels and goals
Cons
High price
Increased height can be a challenge for short users
Membership is required for the complete fitness library
Specifications
Dimensions: 83 inches long x 23 inches wide x 40 inches high
Weight: 76.5 pounds
Weight capacity: 500 pounds
Maximum user height: Six feet, eight inches
Materials: Cherry wood frame
Display: 17.3-inch digital touchscreen display with 1920 x 1080 Full HD resolution
Bluetooth: Bluetooth compatible
Warranty: Five-year warranty on the structural frame, three-year warranty on parts, and one-year warranty on the tablet
The Best Budget Water Rower: Outroad Rowing Machine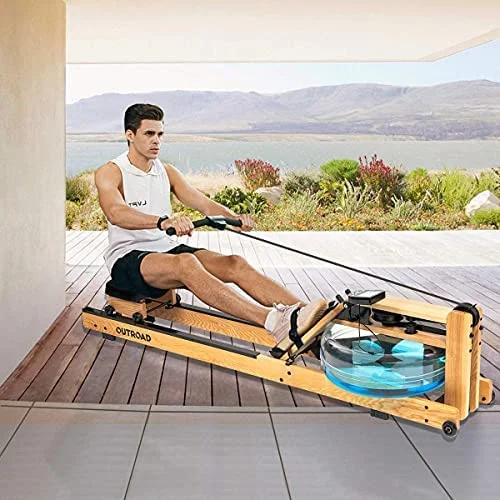 For less than $300, you can add a full-body aerobic workout to your home gym without going broke. The Outroad rowing machine is our best budget water rower machine thanks to its low price of $289.99, large flywheel, and lighter weight, making it easy to transport.
An ergonomic design with thick handlebars, adjustable footrests, and a U-shaped seat helps keep users comfortable. In contrast, a flexible digital display shows time, stroke rate, calories burned, distance, and more.
The Outroad rowing machine is an excellent option for those who want to try the indoor rowing experience without splurging on a high-end purchase or those looking for a simple workout. However, some users need help with setting up the machine, while others report inaccurate metrics tracking. For the price, however, this is a great entry-level machine for casual rowers or those new to indoor rowing machines.
Pros
Budget-friendly
Easy to transport
Quiet rowing experience
Cons
A wooden frame may not last as long as steel-framed competitors
Some users report difficulty assembling the machine
Some users say inaccurate tracking
Specifications
Dimensions: 83 inches long x 20.8 inches wide x 22 inches high
Weight: 59.2 pounds
Weight capacity: 300 pounds
Maximum user height: N/A
Materials: Ash wood frame and double rails
Display: LCD monitor that displays time, race pace, calories burned, distance, and more
Bluetooth: Not Bluetooth compatible
Warranty: Warranty provided by Asurion, as the product is available through Amazon
Best Folding Water Rowing Machine: TRUNK Water Rowing Machine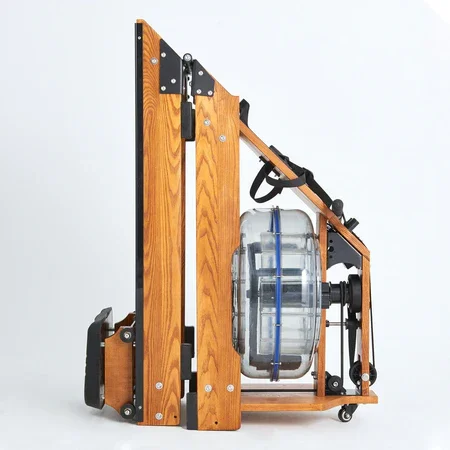 Fitness equipment can take up a lot of space, but the TRUNK water rowing machine folds down to the length and width of a large suitcase and can be easily stored. At an average price of just $609, this indoor rower provides a realistic rowing experience with a see-through water flywheel that helps users feel like they're rowing on natural water. In addition, it is available in various wood tones to suit any space or home gym.
Although some users claim that the LCD screen is fundamental, its ergonomic design and functionality outweigh its drawbacks. It can be an attractive option for those who want to keep their fitness equipment out of sight or, conversely, own a statement piece that matches their decor.
Pros
Easy to store
Includes dust cover and phone holder
It comes in numerous colors
Cons
Some users report difficulty in assembling the machine
Fundamental monitor that lacks specific metrics such as meters, watts, or splits
Some users report that the foot straps break easily
Specifications
Dimensions: 82 inches long x 22 inches wide x 20 inches high
Weight: 64 pounds
Weight capacity: 330 pounds
Maximum user height: N/A
Materials: Foldable solid wood frame and rubberized board
Display: LCD monitor that displays time, race pace, calories burned, and distance (km)
Bluetooth: Compatible with Bluetooth monitor
Warranty: Warranty provided by Asurion as the product is available through Amazon
Best Lightweight Water Rower: Mr. Captain Rowing Machine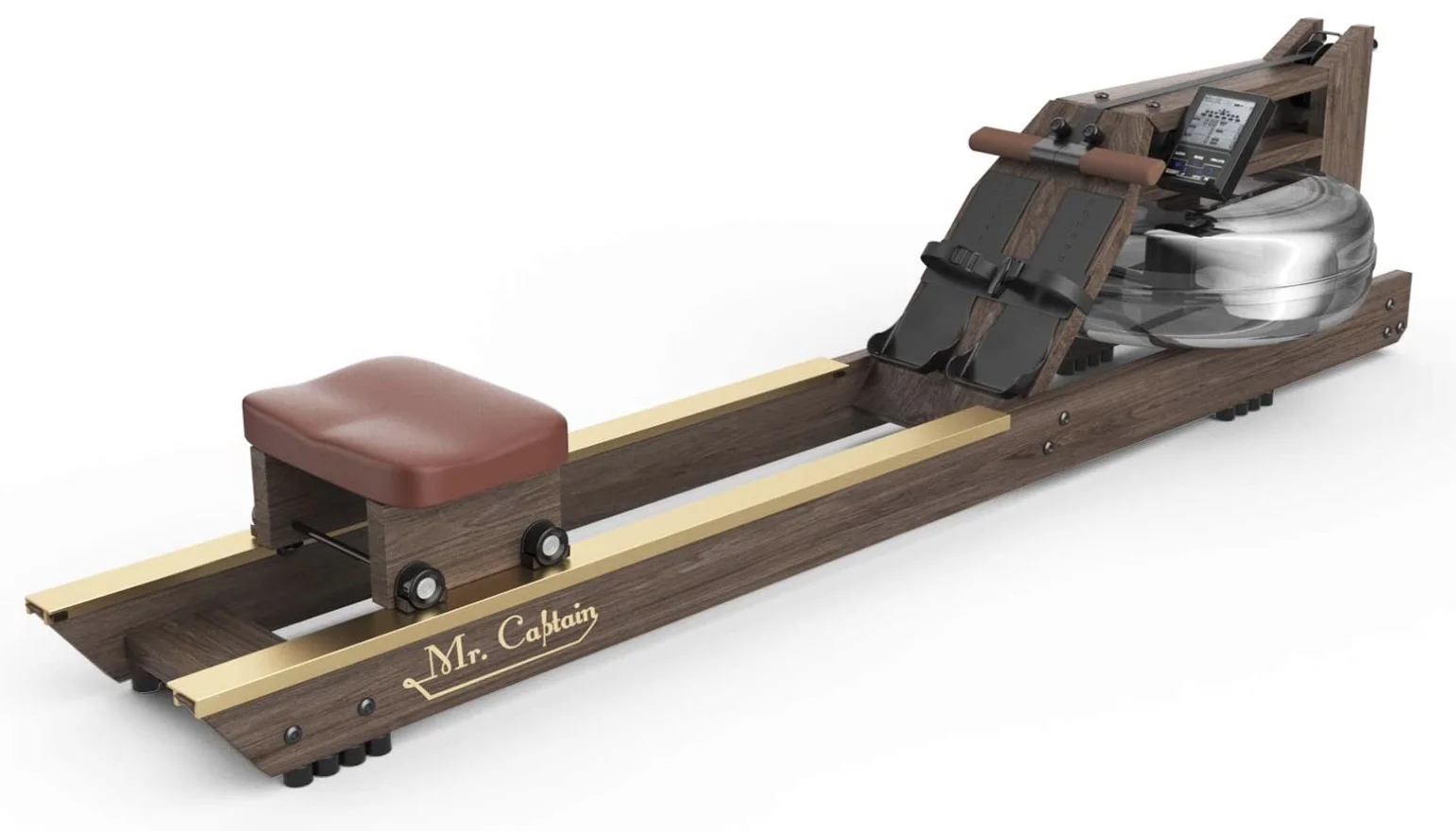 Water rowing machines can be heavy, but the Mr. Captain rowing machine offers a lightweight alternative. unlike conventional rowing machines It weighs only 58.5 pounds, while most competitors range from 65 to 90 pounds.
Designed like a real boat with natural water resistence, this impressive red walnut rowing machine is as realistic as rowing machines can get.
Best for those who need to transport their rowing machine up and down stairs, this product comes with transport wheels for easy storage and portability. It is also a good choice for enjoying a real outdoor rowing experience without the high price tag.
This machine is also environmentally friendly and is designed with a wood wax oil finish, making it ideal for sustainability-focused home gyms. The Mr. Captain rowing machine is Bluetooth-compatible with smart devices or the FitShow app. It also offers three workout programs: manual, custom interval, and target training.
Pros
Easy to get up and down stairs
Fair price
Designed like a real boat
Cons
Few ergonomic comfort features
Only three training programs
No separate pedals
Specifications
Dimensions: 82 inches long x 22 inches wide x 20 inches high
Weight: 58.5 lbs.
Weight capacity: 320 pounds
Maximum user height: People with a leg length of 47 inches or less
Materials: Solid red walnut wood frame with environmentally friendly wood wax oil finish
Display: Customizable smart electronic monitor that displays time, running pace, calories burned, distance, and more
Bluetooth: Bluetooth is compatible with the FitShow app or other smart devices
Warranty: One-year warranty on frame, 180-day warranty on all other parts and components
The Best Water Rowing Machine for beginners: Merax water rowing machine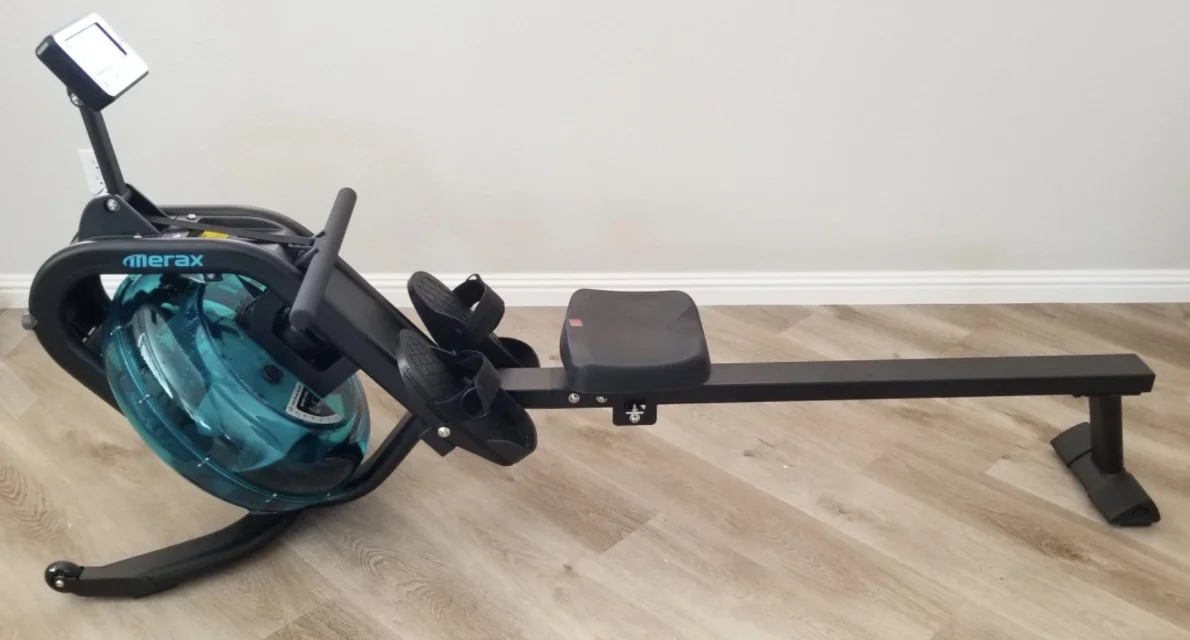 If you're new to water rowing, don't worry, you don't have to settle for an advanced machine. Instead, consider the merax water rowing machine to test the waters and learn how to row. This indoor rowing machine includes six adjustable water rower based resistance levels that help you increase your skill level from easy to more challenging paddles. Once you get the hang of it, you can challenge yourself even more with a race-mode training program that mimics an intense rowing competition.
Since this product is designed with Velcro foot straps, you can comfortably wear your favorite training shoes while maintaining the rowing experience. Some users report noisy workouts with this machine, especially with the sound of the seat sliding, so consider the noise levels if you live in an apartment or with other people.
Pros
Good for beginners
Sleek design
Large, contoured seat
Cons
Heavier equipment
Not Bluetooth compatible
Some users claim that the machine is noisy
Specifications
Dimensions: 78 inches long x 20 inches wide x 25.5 inches high
Weight: 72 pounds
Weight capacity: 330 pounds
Maximum user height: N/A
Materials: Alloy steel frame
Display: Large LCD that shows time, race pace, calories burnt, distance, and more
Bluetooth: Not Bluetooth compatible
Warranty: Warranty provided by Asurion as the product is available through Amazon
Best Deluxe Water Rower: Water Rower Classic with S4 Monitor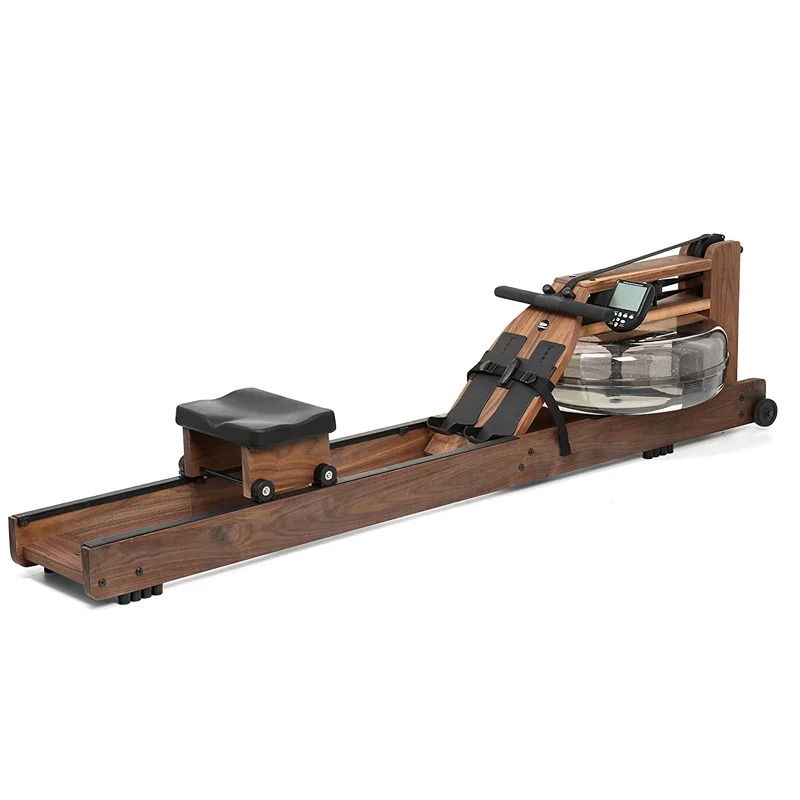 For a luxurious rowing experience, the Water Rower Classic with S4 monitor hits the spot. This sturdy indoor rower is designed to absorb sound and vibration, making it a good choice for those looking for a quiet workout. It's also made with high-quality hardwood that promises to increase the product's lifespan and stability.
The wood used to make the Water Rower Classic is sourced entirely from renewable forests and is hand-finished with three coats of Danish oil to give it a shine. However, for the hefty price tag of $1,599, some users may be disappointed, as this product is not Bluetooth-compatible.
Pros
Virtually silent workout
Eco-friendly design
Maximum user weight
Cons
High price
Not Bluetooth compatible
Basic performance monitor
Specifications
Dimensions: 82 inches long x 20 inches wide x 22 inches high
Weight: 66.5 lbs.
Weight capacity: 700 pounds
Maximum user height: Maximum height of users is 37 inches
Materials: Walnut wood frame with Danish oil finish
Display: S4 performance monitor that displays time, heart rate, calories burnt, and distance
Bluetooth: Not Bluetooth compatible
Warranty: One-year limited warranty on frame, 90 days on replacement parts
Water rowing machines benefits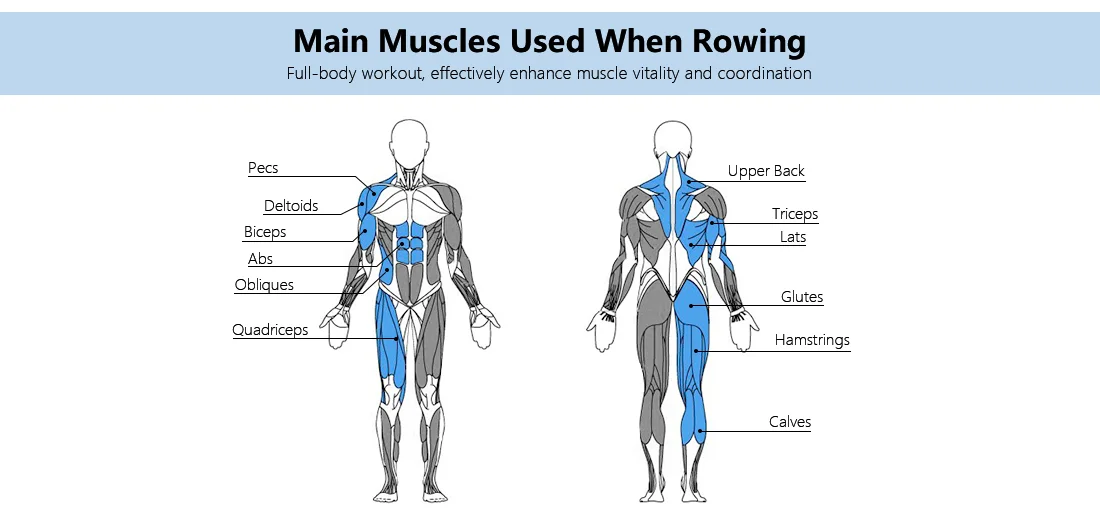 Rowing workouts can be very beneficial to your health and fitness. Although rowing may seem like an intense sport, water rowing machines offer almost everyone the opportunity to reap the benefits of rowing machines against the resistance of the water, and you don't have to be a professional rower.
As a low-impact exercise, water rowing is accessible on the joints. Even people with joint injuries can use water rowing machines if their doctor gives them the green light. Research has found that using indoor rowing machines can improve elbow, shoulder, back, and knee rotation by up to 30%, which can help manage and heal joint injuries or back pain.
In addition to being gentle on joints, water rowing machines provide a total body workout that targets almost every major muscle group. This is because a rowing stroke includes 65-75% leg work and 25-35% upper body work. In addition, rowing workouts can be excellent for weight loss.
Studies show that rowing five days a week over six weeks reduces fat mass and total body fat percentage. As a cardiovascular exercise, rowing can also strengthen the heart and lungs.
In addition, it increases endurance, i.e., the length of time the body can endure physical activity such as rowing workouts.
How to choose a rowing machine?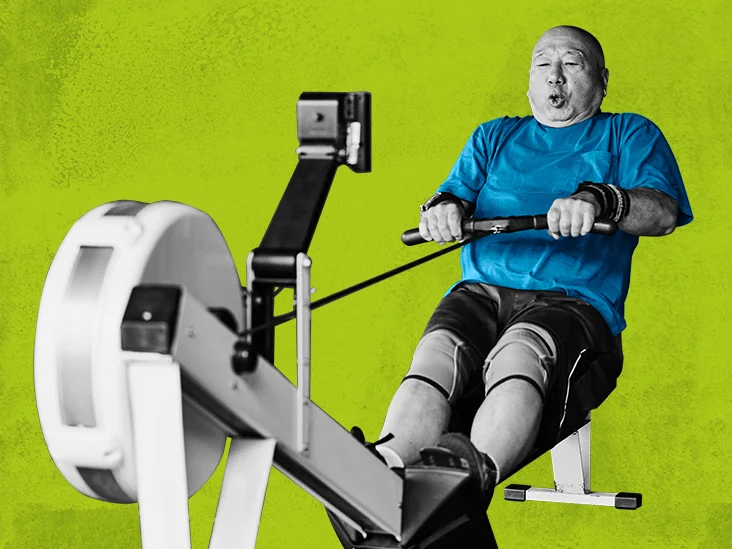 When choosing a rowing machine, you'll need to consider several factors. Before making your purchase, here's what to think about and how these elements affect your fitness needs and budget.
Ease of use
When comparing water rowers, determine how much time you want to invest in your product. For an indoor rower that is easy to use and doesn't require a lot of setup or programming, a low-end investment will suffice, especially if you're looking for a basic fitness workout.
You should lean toward a water rowing machine that offers more customization options for a more complex or challenging workout.
While navigating different workout programs can be time-consuming, it can be worth it for those with concrete training goals.
Keep in mind, however, that water rowers require maintenance of their water tanks, so be prepared to clean them from time to time or raise or lower the water rower levels to change the resistance, depending on the model and brand you purchase.
Resistance Levels
The number of resistance levels a water rower offers will determine how easy or difficult your workouts can be.
Water rowers with higher resistance levels mean you can train more intensely, while machines with lower resistance levels offer an easy paddling experience for new or learning rowers. Instead of using magnetic or wind resistance, water rowers rely entirely on the water to change resistance levels.
Oars using water resistence tend to be quieter than oars using air resistance, as air oars have a noisier flywheel that runs in the wind. Before deciding on a water rower, consider how seriously you want to train and what resistance level will help you reach your fitness goals.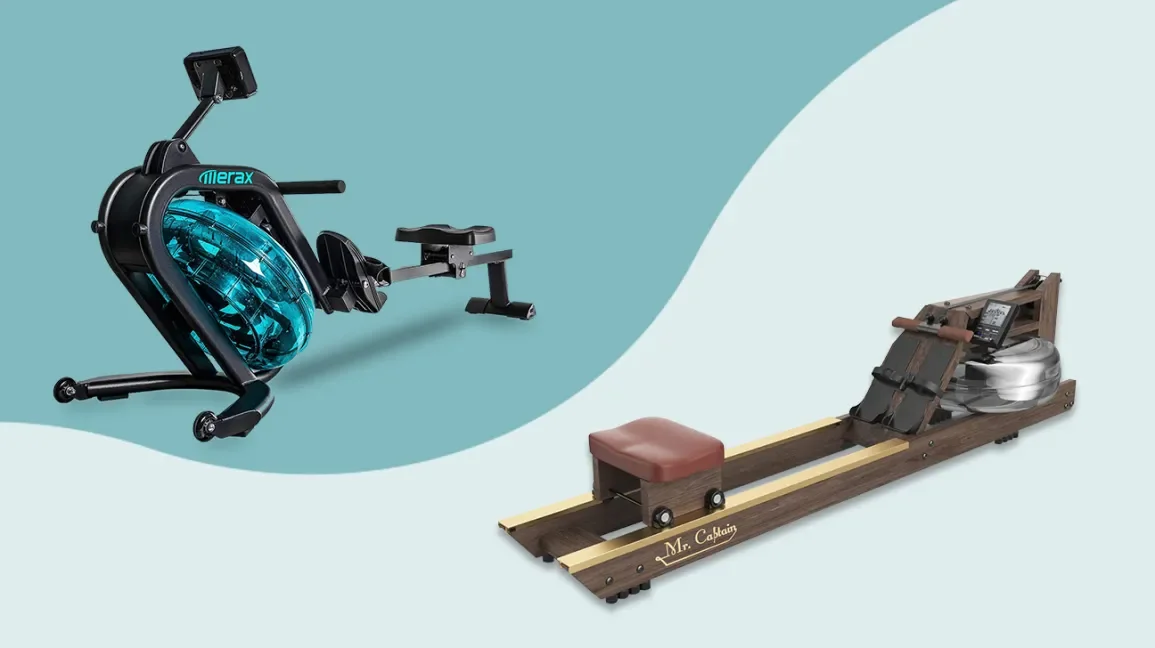 Construction
The construction of a water rower will play an essential role in its stability, durability, and overall longevity. It also helps determine its maximum weight capacity.
For example, water rower made of reinforced steel may stand the test of time better than wooden ones (depending on the finish).
Wooden oars, on the other hand, provide a more realistic outdoor rowing experience that mimics the real thing and can often accommodate a higher weight capacity.
Size
Before purchasing any rowing machine, carefully measure the space where you want to have your rowing machine or home gym.
You'll wish to have several feet on each side of the indoor rower, so you have adequate space to workout and get on or off the machine.
Some water rower are much larger than other rowing machines, so if you have a tight space, consider buying a smaller machine or an indoor rower that can be folded or stored vertically.
Console
Most indoor rowers track the basics, such as stroke count, distance, time, and calories burnt. Considering the pros and cons of different water rowing machines, consider what type of console and programming you're looking for.
A standard console will help you track your metrics, while rowers with more high-tech HD, touchscreen, or LCD can provide a more interactive or visual rowing experience. However, while the higher-tech consoles may be more aesthetically pleasing, they can sometimes be more challenging.
For ease of use and performance tracking, consider an indoor rower with a basic console, especially if you are new to the sport.
People also ask
Are water rowing machines any good?
If you're looking for an exercise experience that's smooth and aesthetically pleasing, look no further than the water rower. This type of rowing machine is known to provide a low impact workout which helps your heart rate stay up – all while creating an immersive environment with its beautiful design.
How do water rowing machines work
Water rowers provide an exhilarating, full-body workout! The counterintuitive mechanics of the flywheel and paddles in a tank of water are what create resistance and allow you to put your strength into motion. With each pull on the handle, watch as powerful ripples travel through the water – creating drag against the paddle that builds up muscle tone with every stroke.
How much is a water rowing machine
Investing in a water rowing machine can be quite the investment. Expect to pay anywhere from $239–$1600, depending on quality and brand! Not only is this type of exercise accessible for many individuals due its low-impact nature but it also offers an effective full body workout that fits into any budget.
How to properly use a water rowing machine
Activate your core and engage the muscles in your back as you stand tall. Push with strength from legs then use upper body to pull hands towards chest – feeling the resistance that comes along with it. Flex arms at base, bend knees in one powerful movement and gliding smoothly through air until starting position is reached again. Let this be a cycle of power: Legs-Arms-Arms-Legs.
What muscles does a water rowing machine work
By taking up rowing, you can get fit and beach ready in no time! This full body workout uses all the major leg muscles like your quads, upper thighs, calves and glutes to give you a toned physique. With only one machine required for this energizing sport it's never been easier to shape up.
Why do rowing machines have water in them
Have you ever wondered why rowing machines are filled with water? Rowing machine designs have utilized this technology to offer a more natural, fluid experience for users. The water creates a realistic resistance that simulates the feeling of being on an actual boat while providing effective exercise benefits.
Are water rowing machines quiet
Get a great workout without making a racket – water rowing machines provide an effective and quiet exercise experience.
How to change resistance in a rowing machine with water
When it comes to water rowing machines, resistance isn't set—it's determined. This fascinating concept is known as the "rule of cubes", which simply states that doubling a boat's speed results in eight times more drag.
How to clean water in row machine
To ensure a clean and clear tank, start with flushing it out using rubbing alcohol. Once complete, fill the refreshed reservoir up with sparkling-fresh water as adding purification to murky waters won't be effective in making them clearer.
How to lose weight water rowing machine
Consistent and challenging rowing can help you reach your weight loss goals! Boost the intensity by incorporating intervals into your routine five to six times per week, for 30-60 minutes each session. By working at a moderate but engaging pace with conversation still possible, you'll be able to keep up this healthy habit – and drop those extra pounds along the way.
What are the benefits of a water rowing machine
Working out with a water rowing machine is becoming an increasingly popular way to stay fit. Not only does it provide an intense, low-impact cardio workout that can easily be modified for any fitness level; its unique design and immersive experience also provides numerous mental benefits such as improved focus, stress relief and greater overall satisfaction from exercise compared to traditional machines.